Utilizing advanced 3D Scanning technology, we scan and capture you and your partner as full-bodied 3D statuettes, then our skilled artists edit and refine your digital models for 3D-Printing on our state-of-the-art 3D Printers. Finally we treat your statuettes with a beautiful finish of your choice and voila! A beautiful reflection of the big day and a keepsake to cherish every day!
​
All you have to do is don your wedding attire, or other preferred garb, and remain still for up to a couple minutes while slowly rotating on a motorized platform. We capture your scan then preview it with you to ensure your satisfaction. We'll scan you again if necessary. Select the size and color/finish of your statuettes and your done. We'll take it from there.
The scanning process produces an accurate digital model but requires editing and cleanup-- the elimination of unneeded surfaces and structures, filling of holes and gaps, the addition of a base, smoothing, etc. Once that is complete we scale it according to your specifications and prepare it for 3D Printing.
3D Printing can take hours depending on size and intricacy. The finished 3D print requires the removal of support material and cleanup. Then we prepare it for an acetone sauna that provides a glossy glaze-like finish. Once treated it is allowed to dry for a couple hours. Then comes the final finish! We offer a variety of finishes, metallic effects, and patinas to suit the overall design scheme of your wedding or event. From basic gloss to classic gold or silver to rustic bronze and iron. We can achieve the look you're looking for!
---
Pricing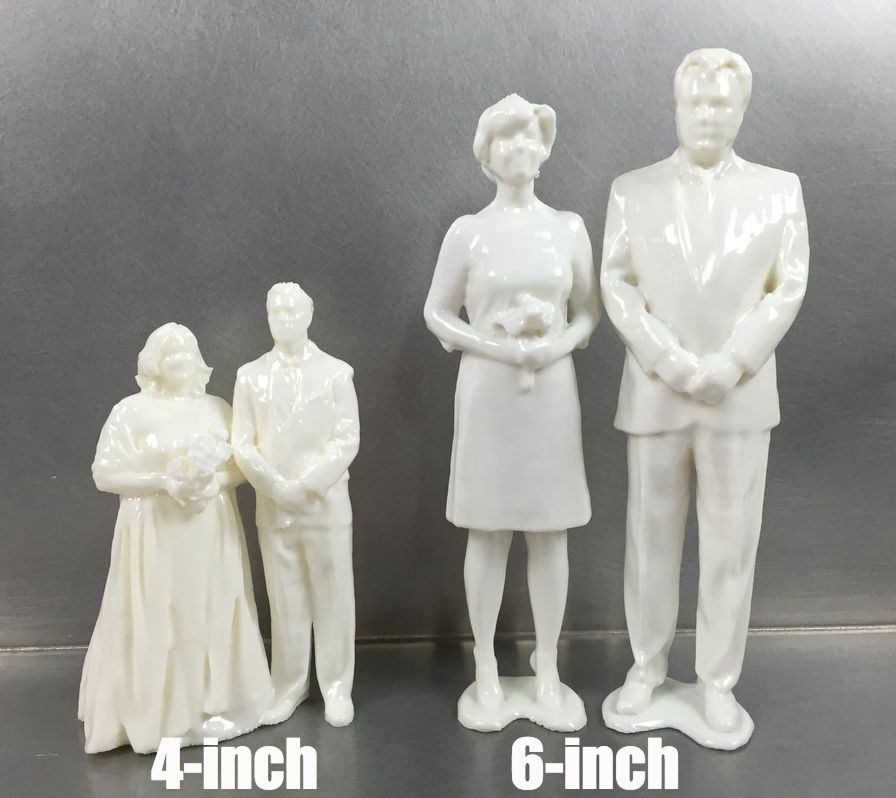 ​
---
4" Couple**......$245.00 6" Couple**........$289.00
4" Individual....$135.00 6" Individual......$165.00
Gold, Silver, Bronze, Copper, or Iron finish:
Add $10.00 per figure
Patina/oxidation effects:
Add $10.00 per figure

* Other colors/finishes available
Prices include in-studio 3D scan, processing, editing, 3D printing, model cleanup, and finishing.
**Sizes reflect tallest person of the couple with the other scaled accordingly.
Allow 15 working days from scan to delivery.
Off-site scanning is subject to additional fees.
Digital models are maintained securely on a non-networked server.
Reprints are available.
---
Schedule your appointment today!
Hours:
12:00 - 7:00pm Tuesday & Thursday
12:00 - 4:30pm Wednesday & Friday
1:00 - 5:00pm Saturday
(207) 415-8559
or
e-mail:
info@steamfruit.com
We are located in the historic North Dam Mill in Biddeford Maine
​2 Main St. • Building 15 • Suite 212
---
FAQs
When should an appointment be set for my cake topper?
When the person or persons have their final attire for the event. At least 15 working days are needed before the event to allow for timely arrival of your 3D printed figurines. You can come to our studio at the North Dam Mill in Biddeford (changing area provided) or we can come to you at your final fitting or rental to perform the scan (additional fees apply).

Can you create 3D cake toppers from photos?
No. Our scanning procedure captures the subject as a true 3D representation with millions of data points. It simply is not replaceable by photos.

Can 3D body scanning harm my body?
Not at all. We utilize digital photography and infrared scanning technology, both of which are harmless.

Do we have to hold still for the scan?
Yes. Just for a couple minutes or so. You can breathe normally-- you don't have to hold your breath. It's similar to taking a photograph at the studio. Think "Mannequin Challenge".

What kind of poses can I plan for my Figurines?
Choose a pose that you are able to maintain comfortably for up to two minutes. Details like spread fingers or strands of hair, etc. may not scan or print well. We will show you how to get the best pose for your figurine.

What kind of clothing should I wear?
The scanning system analyses surface details. The more it can see, the better the quality of the result. The system doesn't like surfaces that are transparent, shiny, or reflective (some watches & jewelry, gems, sequins, glasses, etc.) or that lack structure over a large area (veils, tulle, netting). Plan on arriving 15 minutes early to allow for changing time.